Stouffville Antiques: Reid's Antiques
Antiques in Stouffville
Written by Patrick Lannigan - Late Fall 2010

As a marketing executive I like to simply "drop into" retail stores on Main Street Stouffville to get a feel for the retail experience. I pick a store, every week or so, to drop in on. Robert Reid, owner of Reid's Antiques, was a little suspicious when I started to ask questions about his antique store. My fault&dashm;sort of&dashm;as it didn't help that I forgot to introduce myself properly.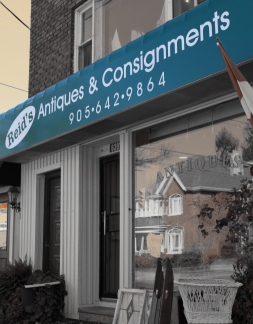 Robert eventually warmed up to my questions about his Stouffville antique store and told me that his shop opened in 1997 and that his business model was driven by an interesting balance of "word of mouth" and people who bring in goods for consignment sales."
While I don't have a great deal of background in antiques I noticed that Robert hand a wide variety of antique goods including china, jewellery, books, light furniture, etc.
Reid's Antiques: Contact
Reid's Antiques 6397 Mail Street Stouffville, ON L4A 1G4 905-642-9864 robert@reidsantiques.com
Business Model Thoughts
From a business model perspective it must be comforting for Robert to know he's not competing (directly) with the big box stores! Good luck Mr. Reid.