Blood Lab and Clinic in Stouffville
Patrick Lannigan, January 2011
New Location for Stouffville Blood Lab / Clinic
The new location for the CML Health Care blood lab / clinic is in the east end of Stouffville by the (new) Shoppers Drug Mart, Anytime Fitness, Little Caesars (see picture below).
Blood Clinic Name: CML Healthcare
Tel: 905-640-2242
Hours Mon-Fri: 7:30AM-4:00PM
Hours Sat: 8:00AM-12 Noon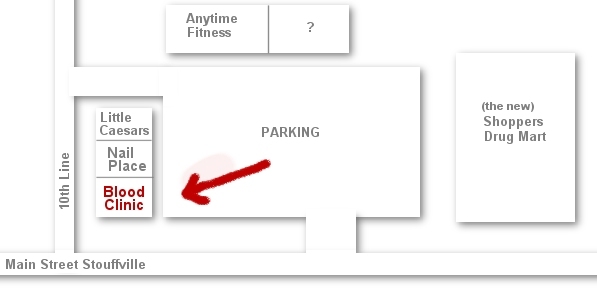 The Line Moves Quick. Don't Get Discouraged
One morning I arrived at 9:45AM. The waiting room was packed and people were standing. It was discouraging. The lady said the wait was 45 minutes so I went to run some errands. I came back a bit early (after fetching a book to read from home) at 10:15 and the waiting room was completely empty! I was shocked, but happy! My blood work took no more than 5 minutes and she hit the vein perfectly.