DRAFT - NOT PROOFED
Albanie Bourque House in Scoudouc
Albanie (Ben) and Velma Bourque House in Scoudouc, NB, Canada
Patrick Lannigan, January 22, 2010
I have fond memories of visiting my Acadian grandmother and grandfather's (Albanie and Velma Bourque) house in Scoudouc, New Brunswick. By coincidence I found the house for sale on a web page and thought I'd grab the picture for a keepsake.
My favourite memories are of watching my grandmother bake blueberry pies and pets de souer (literally Nun's Farts) (they were to die for).
Janice Bourque, Velma Bourque, Marie Lannigan, and ??
At a typical gathering, after dinner, the women would gather in one room and the men in another. From right to left is Velma Bourque (my grandmother), Marie Lannigan (Bourque) my mother, and Janice Bourque (my cousin). (I don't know who the woman to the far left is).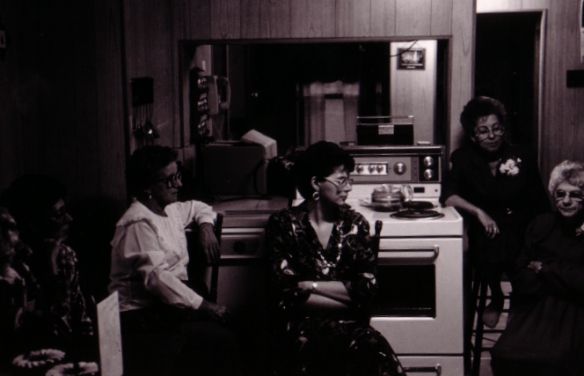 My Mom and Dad's Wedding in Scoudouc (May 24, 1958)
So glad this video footage survived.
My Grandfather's "Wooden" Car
My grandfather (Ablanie Bourque) was a good carpenter.
Sometimes he got carried away.
Below is a video that I uploaded to YouTube of a car that he transformed into a "wooden car" (hey - at least it won't rust!).