Marketing Expensive Software Products
Written by Patrick Lannigan - May 2009
The Marketing of Expensive Vertical Software Products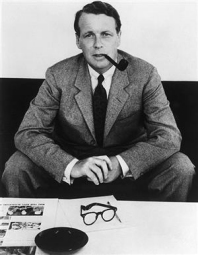 One of my pet peeves in the marketing of vertical business solutions is the overuse of Gartner-speak or industry acronyms. Especially when selling to C-level business executives. In the case of highly technical products much can be forgiven (e.g. a router, a database, etc.). However, if you're selling a vertical business solution and using terms like B2B or SMB, stop and think. Are these acronyms really necessary? Are you really thinking it through? David Ogilvy, one of the grandfathers of advertising, knew better.
Bad Gartner-Speak: B2B, SMB.
In my 25 year career, I've never once heard a small or medium size business call themselves an SMB. And seldom have I heard a business that sells to other businesses describe themselves as a B2B company. The techies in that organization may use those acronyms, but chances are the C-level executives don't.
Use the Words your Customers' Use. Minimize Techno-Babble
As VP of marketing at Strategic Information Technology I have a very low tolerance for Gartner-speak and other industry techno-babble-marketing-fluff on our website. Our president doesn't like it and neither do I. All that "mission critical enterprise" talk is avoided when possible. Instead, we focus on the words our customers use. We aim to resonate. And we've succeeded beyond my expectations.
I remember I was introduced to a director of marketing through the president of a company. When I asked him what his product did, he replied (something like) "our product provides XML for J2EE CRM environments." I was speechless. And he called himself a marketer? This type of bafflegab is a sign of a marketer who is (absolutely) not in touch with the problem his customers were trying to solve. He was trying to sound smart. It was no surprise to me that the product failed.
How do you Know if your Website is Working Well?
It's very easy to tell if you're website is working well. You'll get called. That's right. The sure way to tell if your website is working is that you'll get called by C-level executives with power and budget. The bonus when this happens is that they self-qualify themselves (because, in our experience, it's the executives without power and budget that resort to sending an email or filling out the form). The ones with power and budget pick up the phone—every time.
What to do if your Website is Not Working Well
So what do you do if you're not getting these types of calls? Four things (in no particular order): 1) Work on "getting found" in Google (and speaking of acronyms, the techies refer to this as SEO—search engine optimization); 2) create an easy to navigate website with a good-enough aesthetic design; 3) write good authoritative copy that teaches them something; and 4) purchase Google advertising. Getting found on Google (1), and purchasing Google advertising (4) are the easy parts of the equation. Writing good copy (3) and creating a well-designed website (4) are much harder.
This Approach is not for Everyone
I admit my approach is different. It's not what you are going to hear from all the sales and web consultants you talk to. But it works for my company. And it works well. We sell expensive software (typically starts at $100K). We solve tough and deep problems for companies that perform various financial and banking functions (I'm being vague on purpose).
A Well Designed Website
In my opinion, too many websites focus on the "wow" design. If you speak the phrase "well designed website" to a techie, it is my experience that they tend to think in terms of fancy drop-down menus, dazzling pictures, and they tend to believe the design goal is to "wow" the prospective reader. Sad, but true. I'm very clear on my design goal. I want sales leads. As an example of our (different) approach we at Strategic Information Technology don't use drop-down menus. If we did we'd lose a lot of our juxtaposition power (you really need to study eye-tracking research). We also don't overdo the fancy pictures or focus on the "wow" factor (e.g. flash). Our design goal is more ambitious than that. We're aiming straight for the C-level executive's mind. We want to attract the "A-type" personality. We want the executive that "makes things happen". And when they call us, it's an awesome feeling.
Writing Good Copy
I'm not going to dive into the dozen or so techniques we use for copywriting. Some of it is even subliminal. But it's also rich (and deep). We're definitely not in their face with "buy now" "download now" or "sign up for this white paper" messages. That's just too hokey-pokey for the image we want to portray. To be very clear, we view our copywriting to be our "special sauce." It's what differentiates us from the crowd of vendors we compete with. What I will say is that you have to get your copywriter to put themselves in the mindset of a C-level executive. If they've never been a C-level executive before, this may be tough to do, I admit. Get someone to help them. Get a peer who is involved in the industry you target. Get them to read your stuff to see if it resonates.
Good Fun. Gratifying Too!
I lost a few summers reworking our website (in multiple phases). But the investment was worth it—and it is still paying dividends today. It is both gratifying and fun. And there are no sweeter words I like to hear from a C-level executive on the other end of the phone introducing themselves with a "Hi, I was just on your website and ....."