Peter Fiore: In Memory
Patrick Lannigan, Dec 2009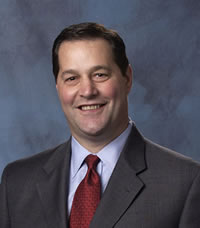 This page is in memory of Peter Fiore who was CEO of Crossbeam and president of Ascential. I just found out that he has passed away. I didn't know him well—but I admired what he had accomplished and believe there are many great lessons for those in the software industry.
Peter Fiore joined VMARK in late 1994. Between 1994 and 1996 the market for Business Intelligience software was exploding. Part of that market was comprised of "the data warehouse" market which became a repository of data from one or more corporate databases. There were a few companies (Prism and Red Brick to name a few) that targetted the data warehouse market focussing on the storage of data. Trouble was their earnings (and therefore their valuation) were low. (See 10K for Prism. See 10Q for Red Brick). VMARK had some traction in the data warehouse but like everyone else, they hadn't found any highly profitable niche. That all changed when Lee Scheffler (from VMARK) took a sabbatical in 1996 and toyed around with the creation of an ETL (Extraction Transformation and Loading) tool. Lee presented to senior executives by the end of 1996 and Peter Fiore took those initial visions and transformed them into a market strategy he could execute on. I saw him in action. He did a fantastic job.
There is an excellent writeup on Peter Fiore by Vincent McBurney here. There is another writeup done by Vince on the beginnings of DataStage here.
There's also a great Wikipedia article that talks about the history of DataStage (the ETL tool) and its history vis a vis VMARK, Ardent, Ascential, Informix, and IBM.
Most importantly, the "Peter Fiore story" highlights the fact that there are thousands of ideas floating around the software industry at any one time. The toughest part is execution. And that's where Peter shined.
Peter Fiore Obituary
Obituary was copied from Acton Funeral Home's website

Peter Fiore, age 52, of Acton, MA., died Saturday, December 19, 2009 at his home surrounded by his family. He was the beloved husband of Kim (Palioca) Fiore, formerly of Leominster, MA., to whom he was married for 22 years. Born in Oneida, NY., he was a son of the late Louis Fiore, and Evelyn (Cerio) Fiore of Melbourne, FL. He earned a B.A. in Engineering and Applied Sciences from Harvard University, and was the President and C.E.O. of Crossbeams Systems, a software company in Boxborough, MA. Mr. Fiore had more than 25 years experience, with a strong operational background in marketing strategy, sales, mergers and acquisitions, business development, and product development in high technology companies. Prior to joining Crossbeam, he served as vice president of IBM's Information Integration solutions business, where he oversaw all aspects of the $500+ million business segment's strategy and growth. He joined IBM as a result of the company's acquisition of Ascential Software, where he served as president since the company's inception in July 2001. During his tenure, he led Ascential through its transition to an independent public company and grew revenue by more than 140%, becoming the revenue and market share leader. Prior to Ascential, Mr. Fiore was president of Informix Business Solutions, a leader in business intelligence and analytical applications. Earlier in his career, he served as executive vice president and general manager of Ardent Software and its predecessor, VMARK Software. Mr. Fiore also held various sales, marketing, and product development positions in networking, computer systems, and enterprise software companies. In addition, he served on the Board of Directors at Teradata Corporation (NYSE: TDC) and Kadient Incorporated.

Mr. Fiore's passion was flying, and he enjoyed piloting his own plane based in Lawrence, MA. He loved sports and was a lifelong fan of the NY Giants and Yankees. He also enjoyed basketball, and was a coach for his daughters' teams for many years. The family resided in Lunenburg, MA. before moving to Acton 12 years ago.

In addition to his wife and mother, he is survived by two daughters, Madison and Hannah; two brothers, Paul Fiore and wife Christie of Johnstown, NY., and Michael Fiore and wife Pamela of St. Louis, MO.; a sister, Judith Zoll and her husband Russell of Canastota, NY.; his mother's husband, Arnold Collins of Melbourne, FL., and nieces and a nephew.

Relatives and friends were invited to visiting hours on Wednesday, December 23rd from 5:00-8:00pm at the Acton Funeral Home, 470 Mass Ave (Rte 111) Acton. The funeral Mass was celebrated on Thursday, December 24th at 10:00am in St. Elizabeth of Hungary Church, 89 Arlington Street, Acton.

In lieu of flowers, memorial contributions may be made to the St. Jude Children's Research Hospital, 501 St. Jude Place, Memphis, TN. 38105.
Peter Fiore - Historical Press Releases
VMARK Software names Peter L. Fiore, VP marketing.
WESTBORO, Mass.--(BUSINESS WIRE)--Dec. 7, 1994--VMARK Software Inc. (NASDAQ: VMRK) today announced that Peter L. Fiore has joined the company as vice president, marketing reporting to Thomas M. Palka, vice president worldwide sales and marketing.
In this position, Fiore is responsible for worldwide product marketing, marketing communications and marketing programs.
"We are extremely pleased to welcome Pete and to add an executive of his caliber to the VMARK team," said Palka, noting Fiore's 15 years of accomplishments in engineering, sales, marketing and business development-related activities within the high technology marketplace.
Fiore's addition is the result of the company's recent decision to structure its marketing and corporate business development organizations as distinct but complementary entities, within the corporation. Stephen W. Machnik, who had served as vice president, marketing, continues as vice president, corporate business development reporting to James J. Capeless, president and chief executive officer of the company.
"As VMARK aggressively pursues new markets, products and distribution channels, it is critical to our success that we maintain both a close integration of sales and marketing activities and programs as well as a focused approach to strategic technologies and issues," said Capeless. "We are confident that this dedicated approach to both activities strengthens our position for further growth," he said.
Fiore joins VMARK from CrossComm Corp., where he served as senior director, channel marketing with overall responsibility for market development, channel strategy, marketing programs and product planning for key vertical industries. Prior to that he worked at Stratus Computer Inc. in both sales and marketing positions including major account executive for Stratus' financial accounts and industry marketing manager for a number of vertical markets. He began his career as a software engineer at Digital Equipment Corp.
Fiore received a Bachelor of Arts degree in Engineering and Applied Science from Harvard University and completed an Executive Program at the Amos Tuck School, Dartmouth College.
VMARK Software Inc. Forms Data Warehouse Division; Fiore named Vice President and General Manager.
WESTBORO, Mass.--(BUSINESS WIRE)--June 3, 1996--VMARK Software, Inc., (NASDAQ:VMRK) today announced the formation of a Data Warehouse Division and the promotion of Peter L. Fiore, to its Vice President and General Manager.
In this position, Fiore reports to Robert M. Morrill, president, chief executive officer and chairman of the client/server software and services company. Previously vice president worldwide marketing, Fiore will be responsible for the integration of all activity surrounding this effort and will be supported by key people dedicated to this effort within VMARK's sales, engineering, marketing, and services organizations.
The data warehouse market has become one of the fastest growing segments of the computer industry. Characterized by the need for rapid access to large volumes of historical or reference data and for the ability to manipulate, analyze, and "warehouse" information from many different sources, its growth is driven by companies looking for a competitive advantage. The software and services segment of the worldwide data warehouse market is estimated to reach $6 billion by the year 2000 and from $1.1 billion to over $6 billion, accordin to First Albany/IDC, an industry research firm.
"The creation of this division highlights the importance VMARK is placing on this market opportunity and our commitment to data warehousing," Morrill noted. "Our UniVersal WarehouseT initiative which we announced in January has received strong interest from the company's Value Added Resellers and end-user installed base. They believe, as we do, that our UniVerset RDBMS server and complementary products provide key differentiating benefits - and we intend to exploit those advantages," he remarked.
In April, VMARK announced a partnership with Cognos Corporation, Burlington, Mass. to work together on joint data warehouse opportunities. VMARK additionally announced it would sell Cognos' business intelligence tools as part of the company's UniVersal Warehouse initiative.
Fiore has over 17 years of experience in high-tech sales, marketing and business developed-related activities and engineering. He joined VMARK in 1994 and during that time directed the company's product marketing, channel programs, and marketing communications activities. Prior to VMARK, he was Senior Director of Channel Marketing at CrossComm Corp. and also held sales and marketing management positions at Stratus Computer, Inc. He began his career as a software engineer at Digital Equipment Corporation.
Fiore received a Bachelor of Arts degree in Engineering and Applied Sciences from Harvard College. VMARK Software, Inc. headquartered in Westboro, Mass., is a leading provider of client/server software and services used to solve the complex task of building business applications and data warehousing solutions. Its product family includes the UniVersed RDBMS server, HyperStard object-messaging middleware, and ObjectStudiod, an object-oriented application development tool. Its products are available worldwide and are complemented by a suite of services including 7-day/24-hour customer support, consulting, and education.
VMARK Software extends data warehousing's reach to unserved markets.
WESTBORO, Mass.--(BUSINESS WIRE)--Nov. 18, 1996-- Utilizing reusable software components, VMARK DataStage enables rapid deployment of data marts and warehouses; Permits VARS and Integrators to market vertical warehouses.
VMARK Software, Inc. (NASDAQ: VMRK), one of the world's leading client/server software companies, today announced VMARK DataStage, an integrated software suite that provides a completely new way to develop and deploy data marts and data warehouses.
Using familiar point-and-click techniques, DataStage allows the data warehouse process to be simply and easily defined by linking together reusable software components called "stages". This approach to warehouse design significantly reduces the cost and complexity of developing, deploying and maintaining data warehouses enabling any size business to reap the advantages of timely, accurate access to key business information.
It is also the first solution to give application software vendors and systems integrators the ability to easily "package" their application and industry knowledge in custom "stages". Because stages are reusable, these organizations can quickly and cost effectively deliver a range of packaged data mart or warehouse solutions.
Data Warehousing Made Easy
DataStage simplifies the building of data warehouses by automating the most critical tasks in the data warehouse process, from the extraction, transformation, and cleansing of data located in multiple source databases and applications, to the populating of target data warehouses.
According to the Data Warehouse Institute of Bethesda, Maryland, these tasks represent the most difficult and time-consuming elements of creating a warehouse, with "70 to 80 percent of time and dollars spent on a data warehouse devoted to transformation." By providing a building block approach to this process, DataStage reduces the cost, time, and resources required to design and maintain fully-scaleable warehouses for smaller businesses, departments or the corporate enterprise.
"Today's businesses are searching for ways to access any information that will enhance their decision making and increase their competitiveness," said Robert M. Morrill, chairman, CEO, and president of VMARK. "Until now, these organizations have been faced with the decision to either build stove-pipe data marts or take on a risky enterprise warehouse implementation. DataStage provides an open warehouse solution making data marts practical and easy to deploy while providing the ability scale to the enterprise level."
The DataStage Family of Integrated Client and Server Products
VMARK's DataStage is an integrated product suite that simplifies and automates the extraction, transformation, integration, and maintenance of data from multiple operational sources. DataStage's graphical drag-and-drop environment enhances productivity by allowing users to design the data warehouse process using a direct visual model of the flow of data from sources through transformation processing to the target data warehouse.
DataStage consists of three Microsoft(r) Windows95(tm) and Microsoft Windows NT(tm) clients: the DataStage Designer, the DataStage Director, and the DataStage Repository Manager, and two Microsoft Windows NT server components: the DataStage Server and the DataStage Repository.
Key functionality includes:
The Designer which uses simple point-and-click techniques to develop processes for extracting, cleansing, transforming, integrating, and loading data into data warehouses. It provides a direct visual data-flow metaphor to easily interconnect and configure reusable components called "stages";
The Repository Manager which permits users to browse, import, edit, and create metadata about data sources, user-defined data types, transformations, intermediate tables and other extensions;
The Director which interactively monitors and controls the operation of the DataStage Server, schedules and monitors jobs, collects statistics, and performs recoveries;
The Server which runs DataStage jobs, assigning resources as needed; and,
The Repository which provides common set of metadata shared by all DataStage applications.
DataStage supports all major relational databases as well as flat file systems and legacy data such as VSAM and IMS.
Harte-Hanks, a diversified communications media company based in San Antonio, Texas, selected VMARK's DataStage to integrate information from its Accounts Receivable, Accounts Payable, and Credit History applications with its Order Entry and Customer Support applications. This will provide the company's 500 sales representatives with a new, single-source data warehouse of customer information that was previously only available from separate, discrete data sources. "DataStage is a strategic solution that will help Harte-Hanks better serve its customers, and help the company understand where we're winning business and ways to improve service where we're not," said Mark Edgerton, MIS Director at Harte-Hanks.
The Vertical Warehouse: Applications and Data Warehouses Merge
"The widespread adoption of client/server applications reflects a growing trend for organizations to buy solutions rather than build them," said Henry Morris, research manager at International Data Corp., a Framingham, Mass.-based industry research firm. "By extending applications with data warehouse add-on modules, ISVs and VARs enhance the value of their solution and improve their competitive position. VMARK's DataStage is an easy-to-use tool that will help these vendors deal with the difficult job of transforming and mapping application data into the target data warehouse."
"Although the industry-specific warehouse may seem like a new concept in data warehousing, many of our partners are already working on delivering exactly this type of solution" said Peter L. Fiore, vice president and general manager of VMARK's data warehouse division. "DataStage was designed to enable application software vendors to package their offering with an industry-specific data model, transformation rules, business intelligence tools, and value-added consulting. This approach to delivering data marts benefits both the reseller and end-user through dramatically lower costs and shorter implementations, yielding a significantly better return on investment."
VMARK will focus on establishing partnerships with application providers and integrators to deliver data mart and warehouse solutions in key vertical markets where demand for end-user data access is a priority: financial services, healthcare, manufacturing, and retail.
Pricing and Availability
DataStage will be available in various components with prices starting at approximately $37,500 (US). General availability is scheduled for January 1997.
About VMARK Software
VMARK Software, Inc. (NASDAQ: VMRK) is a leading global supplier of client/server software and services for developing, deploying, and maintaining business applications and data warehousing solutions. Founded in 1984, VMARK is today one of the top 100 software companies in the world (source: Software Magazine). It offers products and services that span the major technologies driving business in the 1990s -- relational database servers, data warehouses and application development tools which are used throughout businesses and extend to Internet and World Wide Web technologies. VMARK serves over one million users in virtually every aspect of business and government through sales coverage in 40 countries and an indirect channel of more than 300 valued added resellers, systems integrators and key technology partners.