CIBC iPhone App
CIBC iPhone Application is Announced

On February 4, 2010, CIBC launched an application for the iPhone that let customers pay bills, conduct Interac email money transfers, view account balances, and more. I sure wish my bank (Royal Bank) had an iPhone app.
Who Developed the iPhone App for CIBC?
The key question I wanted an answer to was "who developed it?" Was it "in house" or did someone do it for them? A few Google searches revealed some hints that Sybase were the ones who developed it. So I started dialling and, sure enough, I found out it was Sybase. It was the group called "Sybase 365" (they specialize in the development of mobile applications). So why wasn't this information public? I guess CIBC (as many large banks do to their technology providers) put a gag order on them so they couldn't have the bragging rights. Oh well. The news is out now.
So Why do I want a Royal Bank iPhone App?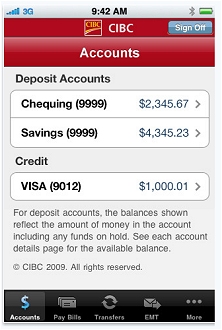 For starters, I want a better user interface than the Safari browser provided in the iPhone. Secondly, I want an increased level of trust and security that I believe (maybe falsely) that a real iPhone app will provide. Lastly, (and this also might be a false assumption) I want fast performance.
I have the contact information for the Sybase person to contact, if you have any questions about this.
Royal Bank iPhone App Update
CIBC was first out of the gate for an iPhone app but I'm happy to say that I finally got my Royal Bank iPhone banking app and am very happy with it.