Patrick Lannigan
Written by Patrick Lannigan - March 2009
Who is Patrick Lannigan?
Sadly, I identify myself, for the most part, with my career in software and technology. It's been such a fantastic journey—and I've worked with so many great people. Sure, there were a few jerks along the way, but I gained behavioural insight from them too. And that brings up a good point. As much as I like technology, I've found that its people skills that make the difference.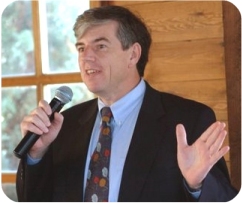 When I was a young man I wanted to taste everything that a high tech career had to offer me. And taste I did. Luckily, I get to leverage this technology industry experience (support, presales, sales, teaching, mergers, acquisitions, startups, coding, etc.) in my current job as ceo of a startup theatre company called Stronger Freer, which is focused on bringing Canadian history to life. The journey has brought (and still brings) a great sense of joy and satisfaction to my life. The companies I've worked for include Progress Software, Oracle, Powersoft (which became Sybase), Concurrent Computer, AT&T, and Insystems.
Patrick Lannigan as a Dad
I'm not a great dad. I know that. But I've had a few good successes with my children. Like any internet savvy guy, I wanted to download some of my skills to my oldest child, Sarah. And wow. This young lady created her own website using only notepad and Photoshop (I wouldn't allow those sugar-laden website authoring tools like Dreamweaver or FrontPage). At one point her website was getting more hits than my own company's website—and this before she was 10 years old! She's also a fantastic artist (see Sarah's painting), creative writer, and has her bronze cross in swimming. Michael will be taking a different route. He'll probably be a better dad than I (he's always fascinated with young children) and he is very caring and thoughtful. He likes creating his own YouTube content and getting others involved in contests. And one more thing. He has "perfect pitch". That means you could tell him to hum a C-note and it will be Spot-on without the aid of any reference note. C'est magnifique, non? It will be such a joy watching these two through the years.
Sarah Update
Sarah is now in her second year at University of Waterloo and is, today (July 1, 2012), on her way to Silicon Valley for two months as part of her third work term. Wow. I'd be so excited at her age (19) that my head would pop off. Go Sarah Go!
Patrick Lannigan as Husband

I'm a very fortunate man. I first met Marianne Nugent (now Marianne Lannigan) at a retreat when I was twenty-something. I was going out with someone else at the time, and got married to that woman, but that marriage fell apart in 1984. Then, in 1985, I bumped into Marianne in the Eaton's Centre—and we haven't looked back. We loved living in downtown Toronto (when we had no children), but have also lived in Ottawa and Boston. We moved to Markham, Ontario, Canada, in 1998 and now live in Stouffville with our two beautiful children.
Obsessions & Passions
I'd have to say my number one obsession is playing with Google rankings. It's a fun little hobby. Next to that I'd say that I'm an obsessive reader (mostly non-fiction). My favourite authors are Al Ries, Geoffrey Moore, and Malcolm Gladwell. My (current) favourite fiction author is Cormac McCarthy.
Charity / Non-Profit
My favourite non-profit work is for Dyslexia Canada and for Stouffville Theatre Company